Whether it's called billiards or pool – though the latter is more accurate as it involves the tabletop game with pockets – there's no denying that just about everyone knows how the game works. Many people play the game for fun, and they build enough skills where they feel like they can take things to the next level.
That said, what can you do to help improve your skills in as meaningful a way as possible? It's understandable to feel a little lost because no matter how popular the game might be, it's not always clear-cut to figure out ways to improve your game. Fortunately, there's no need to resort to trial and error when improving your pool skills.
Here are a few ways to dramatically improve your skills without the stress and frustration typically associated with self-improvement!
The importance of playing pool video games
It might seem a bit strange to recommend video games when it comes to improving real-life pool skills, but it might come as a surprise how much games can make a difference. Provided you go for one that is reviewed highly by the masses, you'll end up playing a pool game where the general rules and skill requirements are the same. The only difference is that the pool player already has the necessary control and aim to place the ball wherever they want.
As you go through the game, you'll probably notice that it's not quite as easy as aiming for what you want and letting it rip. Most quality pool games will have mechanics that include the angle of the shot, the physics, as well as the amount of strength necessary to make the shot. It's a surprisingly easy way to learn the deeper mechanics of pool without playing the actual game.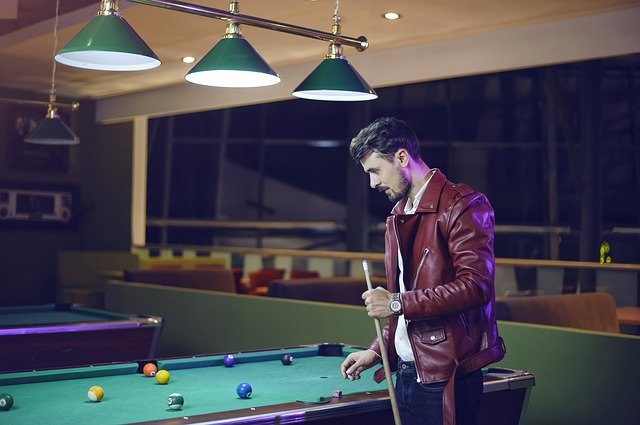 Eventually, as you play the more challenging difficulties of your chosen game, you'll figure out little nuances that matter quite a lot to the real deal. It will also help you figure out the imaginary line that's so crucial to real billiards. You'll begin to imagine the line as you might see it in a pool video game.
2. The subtle impact of the right pool cue
There's no denying that the ideal pool cue can make a difference, especially if you're used to handling whatever pool cue you can get your hands on. There are different variables that factor into your success at the game, including the height and weight of the cue, as well as the type of grip.
It would be wise to take your time when purchasing a cue, getting the advice of the seller if you feel a little lost. There's no need to worry about the price as there are quality
pool cues under 200 dollars
that can make a sizable difference to your game.
3. The presence of mind to swing like a pendulum
You'll find that in most games of professional billiards, the players very rarely move their upper arm when playing. In fact, it's a good idea to watch as many videos as possible of professional pool to see the way the players handle different angles. In most cases, you'll notice that they swing their arm like a pendulum, keeping the upper arm still and giving their forearm all the necessary control.
If you aren't used to shooting pool in such a way, it would be best to learn as soon as possible. Even if you aren't used to it at first, it's only a matter of time before it becomes an integral part of your game. While the backswing should be slow to ensure that you have control, swinging like a pendulum from different angles offers you the chance to control the shot like you might see in a video game of pool.
4. The surprising mechanics of the pre-shot routine
Have you ever noticed professional players take the time to do a few small things before taking a shot? For example, they might use chalk on the pool cue to help add more friction, or they might do some light stretching. While it might not seem like a big deal, you'll notice many professional players doing the exact same thing before a shot. The pre-shot routine is unique to them, but they will go through the same routine, like a ritual before the shot.
It might seem strange, but consider the things you want to do before taking a shot and build your pre-shot routine. It can help get you in the game and build a foundation for your rhythm. It might not seem like much at first, but the idea of the pre-shot routine is to help you focus on the task at hand.
5. The advantage of a comfortable grip
One of the reasons why choosing the ideal pool cue is so vital is that you end up with a pool cue you're comfortable holding and carrying. If you aren't comfortable, chances are you'll end up with a grip that's much too tight. It might seem like a tighter grip is better due to how it offers more control, but the truth is that it's more vital to be comfortable with your stance. Conversely, a looser grip might seem like it won't afford too much precision, but all you have to do is practice to see how much of a difference it makes.
6. The value of having fun
Last but certainly not least, things won't matter much if you aren't having fun! While everyone has their reasons why they want to improve their pool game, the most crucial part is to be passionate about billiards due to your love for the sport. Everything else is secondary, as the value of having fun means you're willing to go the extra mile.
Conclusion
Learning how to get better at playing pool is an endeavor worth taking, especially for those who know how to enjoy themselves. While it might seem frustrating at first, it's only a matter of time before you start developing best-practice methods toward improvement.