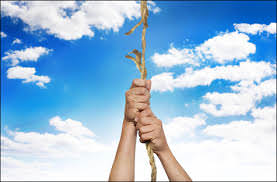 There is a story about a young person that had his world come crashing in around him but he was holding fast in changing times. This young man dug deep within himself to turn any fear he had into success. His parents' are seeing its last great rulers reign come to an end. In an instant, the king had been killed at the height of his power and greatness, and now a succession of less than stellar kings had brought the land low. Crime was up, security was down, and it was impossible to know whom you could trust. Chaos had set in, disorder reigned, and those in leadership of the country were telling the people prosperous days have ended. People were giving in to their fears. Their fears where dictating their lives, and all hope of becoming successful in this changing time had come to an end. They were now placing there hope in their leaders taking care of them. Their biggest fear was not allowing themselves to turn their fear into a success and become someone great. Fear can be paralyzing or fear can be empowering it is all up to you which one takes control of your life. I used my fear to get started in establishing Aleka Health Consultants. Getting started in anything can be a fearful thing if you feel alone in it. At Aleka Health work alongside you and help you become successful. The question is do you have the courage to turn your fear into success by joining our team?
This young man was Daniel and as a youth he saw the world he grew up in was no longer, and he had to hold fast in changing times. The name of the time was fear, and everything that he and his family had known was changing. The old ways seemed destined for the ashbin of history and nothing would be the same. You see this young man became a slave. He was taken from his home and country to serve the king of this new country. This would be a time of losing hope for many, but not with Daniel. He's holding fast in changing times, and turned any fear he had into strength and success.
This is a true story of a life lived in constant upheaval, and change. Yet this young man never gave up hope of prospering in a time when everyone else has purposed in their heart that prosperity and hope have fleeted away. This young man never gave up hope when other let their fears control their destiny. This young man purposed in his heart that all things are possible by holding fast to his principles and striving for excellence in these changing times. He allowed others with the knowledge of success to couch him to becoming successful.
Changing times are a fearful thing, but only if you allow the changes and the fear of those changes to take control of your life. There are those out there that will tell you that prosperous times are past. Changing times has taken away any opportunity to have your own business, and any opportunity to have a home based business is over due to these changing time. They will try to plant fear in you because they themselves are to fear full to become successful. At Aleka Health Consultants we are showing people how to hold fast in changing times. We have great new opportunities to build one's own business, and to set your own destiny, but only if you have the courage to turn your fears in becoming a success. Hold Fast in Changing Times, Don't give up those dreams of accomplishing great things for you, and your family.
At Aleka Health we would love to help you accomplish this. I need you to know that these aren't just words, but a promise and a commitment we give to all of our partners. Through the example of Daniel one can be a top producer in your own business, and able to set your own hours, and bless your family with some wonderful extras. Holding Fast in Changing Times is facing your fears, and moving ahead to establish your own business. You need to have the courage to face your fears and turn them into a success in a sea of constant Change.
If you are looking to make the kind of money you will never have at the job you are now working, or if you are like Daniel and have the courage, and faith in yourself to become a leader like Daniel, and to turn your fear into a success, than go to our link below for your free business plan.