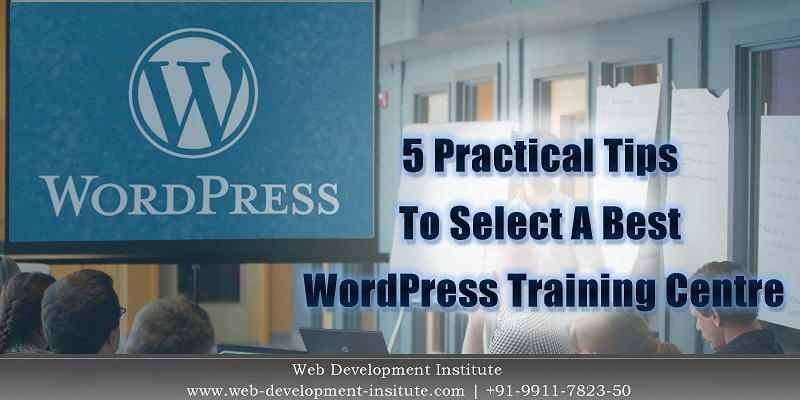 With the increase in demand of websites in the industry, there is a need of CMS (Content Management System) which can be handled easily. Websites that a developer develops in a month can be formed in a week or a weekend with the help of CMS like WordPress. It is one of the popular Content Management Systems in the world which occupies around 30% of websites. It is easy, fast, secure and SEO friendly. Apart this it allows non – programmer to try their hands in web designing.
Consequently, that's mean one who is completely strange with programming and coding can build an amazing website by using WordPress. Don't you think it is awesome? The Plug-ins and Themes available in it makes it more powerful and prevalent. With this one can build e-commerce website, job-portals, customized sites etc. Or you can say any kind of website.
So, don't you want to try this? Though it is easy but for understanding it clearly and thoroughly you need to go for a training center where you can learn each and every concept undoubtedly.
Pre-requisites for joining the WordPress course are:-
There should be knowledge of front-end languages such as HTML, CSS and JavaScript.
Should have good understanding of PHP and MySql.
If you want to build a website without customization then you can go for learning it without any additional programming knowledge.
To get the best knowledge of is framework platform there is the need to know important points on which WordPress training centre is to be selected:-
1. EXPERIENCED FACILTIY- Since, WordPress is based on PHP and MySql. So, the first thing that one need to look while looking for best institute is whether they have experienced faculty of the required software or not.
2. COURSE CURRICULUM- Course curriculum is really important since you're learning completely depends on it. Hence, make sure the training center is covering the industry standard course content.
3. PLUGIN AND THEME DEVELOPMENT TRAINING – It is easy to work with the plug-ins and themes in this Content Management System. But to become a good WordPress developer and to create a stunning website the institute should provide advanced classes on Plugin and Theme development which is also known as customization. The customization of code also known as development requires sound knowledge of PHP MySQL and JavaScript.
4. PRACTICE- There should be a lot of assignments and tests, so that the concepts of a developer becomes crystal clear.
5. LIVE PROJECTS- Institute should provide the working experience i.e., how is it to work on WordPress with the Live Projects. As, after completion the developer should know how to work professionally.
6. PLACEMENT Support- After the completion of the course, the institute should provide the placement assistance to the students. They should provide knowledge of the questions that can be asked in an interview as it is very difficult and competitive to get into the large MNCs.
So, these are some important points that you need to look for before joining any training centre for WordPress course.
Market of WordPress is increasing dramatically day by day. So, it is important to have the best institute for the same. The one which has all the above facilities. So, that by the end one comes out to be the furnished WordPress Developer.