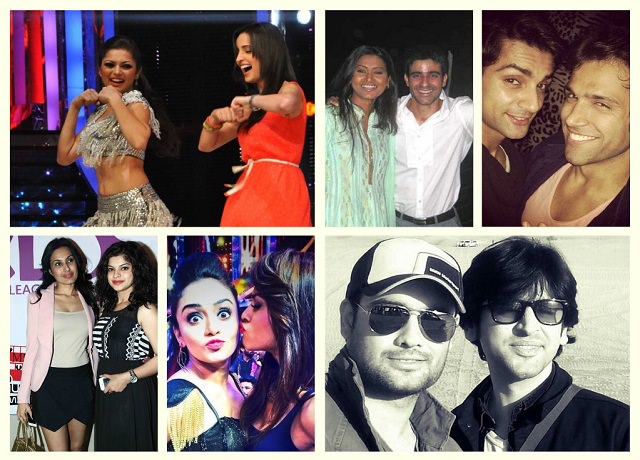 Having a friend that you can call your best friend can be a challenge but the best thing. A friend is that one person you can reach out to at any time and they are there for you. There are some friendships that bond to the point of making others to wish for such bonds in their own. You might have also seen friendship that has bonded to a point of even becoming family.
These kind of friendships can be true and real. Anytime when you think of a television friendship or celebrities the feeling becomes different. You may tend to say that the friendship is not real or it's just for the camera and funs. There are some exceptions to all this stories.
There are Indian TV channels that shows of different celebrities' friendships especially on the friendship day events. To name just but a few of the most famous Indian TV live friends:
Amruta Khanvilkar and Sana Saeed
This is one of the best friendship to have ever happened. These two friends have been competing against each other in different reality shows but at the end of it all, they do not miss the chance to celebrate one another. Amruta and Sana share a very strong bond between them, and they relate so well.
Sanaya Irani and Drashti Dhami
Another big spirit of friendship is evident here. This two talented TV stars have been together through thick and thin. Their friendship has lasted so long and with the looks it seems to go even further. Recently we have had instances that Sanaya says that she is getting dancing tips from her friend who won the Jhalak Dakhhla Jaa competitions.
Nigaar Khan and Gautam Rode
There can never be away to explain a friendship that lasts for more than 14 years. If you never thought of a true friendship between celebrities, you need to think of these two longtime friends. Since the introduction of Gautam's TV career, this two friends have never left each other's back. For a fact when Gautam moved to Mumbai his fast friend was Nigaar khan.
Rithvik Dhanjani and Karan Wahi
Whenever we speak of friendship and friendship day we can never omit to think of this two comic friends. Irrespective of their character they both fit each other.
Sneha Wagh and Kamya Punjabi
A friendship that illustrates solidarity is one of its kind. And with this two you can never miss to see this fact. When Kamya was evicted from Bigg boss, Sneha made this true about their friendship.
Vivian Dsena and Shashank Vyas
Vivian played the role of RK in Madhubal and Shashank as Jagiya in Bllika Vadhu Both of them met at a social do and became friends. They both belong to Ujjain and they both make a good company during food.
Never let your friendship go. Celebrate each and every moment. Here's wishing around everyone a Happy Friendship Day.